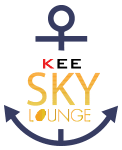 The Sky Lounge represents the ultimate bar and restaurant dining experience, enticing guests with spectacular 360-degree panoramic sea views
There isn't a better, more sophisticated place to catch the sun's fleeting rays as it disappears below the horizon, whilst contemplating the changing colors of another gorgeous sunset.
The atmosphere and mood takes on a nautical theme to let you imagine cruising on a luxury yacht. The wooden decking, sun loungers, plush sofas and our circular bar, helps bring the theme to life.
So lay back, chill and sip exotic sundowners whilst contemplating a romantic dinner under the stars with sensational food and fine wines.
Open :
05.30 PM – 12.00 AM (Midnight)
Location :
6th and 7th Floor (Rooftop)
Make a Reservation