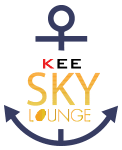 The hottest rooftop bar & restaurant in Patong Beach, Kee Sky Lounge boasts stunning 360- degree panoramic (sunset) views of Patong Beach and its glittering cityscape. In the heart of the nightlife district, and only 150 meters from the famous Bangla Road, take the glass elevator up and relax as the sounds of Patong Beach fade into the background.
Designed like a luxury yacht floating over Patong Beach, with a vibrant space that is cozy and relaxing with sleek wooden decking, sun loungers, plush sofas, a cool circular bar, and even a rooftop jacuzzi, Kee Sky Lounge delivers a sophisticated experience in an al-fresco setting.
The spacious outdoor lounge offers a magical sunset, producing the perfect light to create your content to impress your friends and followers.
Spread over 2 floors, the open-air terraces have different feels, as the 6 th floor is more of a metropolitan rooftop bar and restaurant with its circular bar in the heart of the deck, bar stools, and cocktail tables, as well as indoor and outdoor dining tables.
Many guests choose to chill on the 7 th floor, which feels more like a cruise ship's main deck with comfortable double sunbeds, facing Patong Bay, a rooftop jacuzzi, and a large social seating area for groups of friends.
Dine under the sparkling stars while enjoying a selection of simple yet elegantly presented Mediterranean and Thai tapas, prepared in our open kitchen, with halal and vegetarian options on request, or meet up with friends and indulge in our innovative signature cocktails at the hands of skillful mixologists.
Whether you want to try some proper cocktails, like our signature Maitai or Coco Cloud, our cannabis- and home- infused drinks, local craft beer or one of our ice ball cocktails, our attentive and professional team has got you covered.
For those looking to escape the noise of Patong Beach's vibrant nightlife for a while and are looking for a more sophisticated atmosphere, the Kee Sky Lounge is a great rooftop and sky bar to lay back with some cool drinks, good food, good music & breathtaking views.
Prices are reasonable and include tax and service charge, but for even better value for money, join us for Happy Hours (buy 1 drink, get 1) daily between 9-11 pm or check out our latest promotions and events.
Open :
Doors open daily from pre-sunset till midnight (17:30 – 00:00)
Last order: Food at 23:30 pm | Drinks at 23:45 pm
Sunset: 6:03 – 6:48 pm depending on the time of the year
Location :
Rooftop restaurant and bar, on the 6 th and 7 th floor, with 360-degree views over Patong cityscape and facing the sunset over Patong Bay. Only a 150-meter walk from the famous Bangla Road and a 240-meter walk to Patong Beach.
Make an inquiry
For more information please contact:
---
---