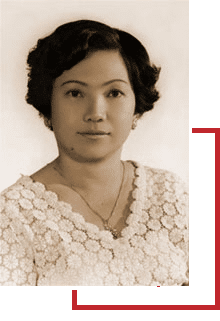 The Kee Resort & Spa was named after the owner of the land where the resort now stands. Descended from the Tan clan in Bae Yong, China, Ama "Siu Gee", was the first daughter of Hokkien emigrants to Thailand, Mr. Tan Lai Tee and Mrs. Oun Ar Liab.
Born on the 14th of February, 1937, Ama Siu Gee, formerly known as Mrs Jumroonsri Somnam, was raised as a humble Buddhist. She passed away at the age 74 on the 22nd of June, 2010, while The Kee Resort & Spa was still under construction.
Ama Siu Gee was a star student in her early years, achieving outstanding grades, but her life was one of hardship from a very young age. Her education was cut short when she was just nine years old.
As the eldest of 13 siblings, Ama Siu Gee gracefully sacrificed her own promising education in order to earn money so she could support her younger brothers and sisters through schooling, each of whom went on to complete higher education.
Ama Siu Gee worked hard day and night for many years, selling fresh fish and pork until she had saved enough money to buy some land, including the prosperous plot where The Kee Resort & Spa now stands.
As a teenager, another of Ama Siu Gee's assets was her natural beauty, which won her second place in a Miss Songkran beauty pageant. Thereafter, she became a prominent member of the community, and later married the love of her life, "Akong Saweg".
The pair were an admirable couple, who raised four exceptional children. Ama Siu Gee was especially admired and respected by family members for her easy-going nature and self confidence as well as for her willingness to sacrifice her own pleasures for the sake of others, while she strived to save for the future, penny by penny.
Despite her thrifty nature, Ama Siu Gee was well-known in the community for her generosity. She sponsored many social events in her lifetime and was once awarded "Mother of the Year".
Understanding the importance of good education, Ama Siu Gee supported all of her grandchildren's schooling. In return, she expected each of them to do their very best and gain as much knowledge as they could, enabling them to manage the family business and make a contribution to its continued success.
Ama Siu Gee was inspired to enter the hospitality industry and build a locally-owned resort in Patong as Phuket continued to grow into an international destination filling up with foreign-owned properties.
Thus, The Kee Resort & Spa was born, the resort's name adapted from "Gee" to "Kee" for easier pronunciation. The fingerprint logo of The Kee Resort & Spa is actually the right thumbprint of the late Ama Siu Gee, the same as her signature on the land ownership documents for the 11 rai (17,600sqm) on which the resort was built.
Ama Siu Gee's thumbprint also serves as a fond reminder to her descendants of the roots of their present-day legacy, and how her generosity, patience and persistence paved the way for them into a prosperous future.